3
3 Flares
Made with Flare

More Info

'>
3 Flares
×
BettyCupcakes is my alter ego.  I also go by Sarah, but that's so 1984!  The nickname was bestowed on me by my college roommate (Hi Stefi!) who said I was the first person she'd ever met who made chocolate chip cookies from scratch.  As a Texas transplant to Boston, food was a fast way to make friends.  Nothing melts a hardened Northern heart like a casserole dish of baked ziti.
Ultimately, it was my love of food that changed my life.  I won my husband's heart when I crashed his poker night with homemade pink frosting and cupcakes.  He even made me a card out of construction paper (bless his smitten 21 year old heart).  Joining his large Irish-Italian family has been a blending of traditions and tastes.  I come from a Southern cooking tradition- the one where you add cream of mushroom soup to any kind of meat and call it dinner. While I've hijacked Thanksgiving in the name of cornbread dressing, I thoroughly enjoy the addition of pasta to all family events and the annual corned beef and cabbage.
Before becoming a mom, I regularly persuaded my husband to travel an hour or more to some small diner that had the world's best pancakes.  I'm still always on the lookout for my next great adventure, whether it's to visit a faraway land or race to the playground.  Wherever I roam, food, fun, and family are always on the menu!
What You'll Find Here at BettyCupcakes:
Good food!  I love to cook and bake, and thankfully, I'm surrounded by good eaters.
Fun! Don't mean to brag, but I know how to have a good time.
Good advice! When I find great restaurants, cooking gadgets, or brews, I want to share them with everyone.
Where I'm Writing:
I'm a contributing blogger to the edible South Shore blog, which is home to the ever-changing Southeastern Massachusetts Food Community.  My column is Dishing on Donuts: Finding the Best Donuts on the South Shore of Massachusetts.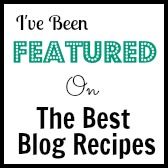 Media Appearances:
MasterChef Cookalong with Season 4 Contestant Eddie Jackson
Awards:
Sarah Puleo's "Dolley's Delights" were named one of the top 10 cookies in the Belle Grove Plantation 2013 Cookie Contest.  These delicious shortbread cookies were inspired by James Madison and will be served at the Belle Grove Plantation Bed and Breakfast during their Lemonade Socials.
About the Logo:
Katelyn Dwyer, owner and founder of Dwyer INK., designed the BettyCupcakes logo. Dwyer INK. is a Boston-area based branding company that believes that even small businesses should have a visually powerful, customer-attracting brand.  Additionally, Dwyer INK. diverts 10% of its income to ad buys, promotion and fundraising events for local, low-budget charities.  If you are interested in contacting Dwyer INK., please visit them here.